Slip and Fall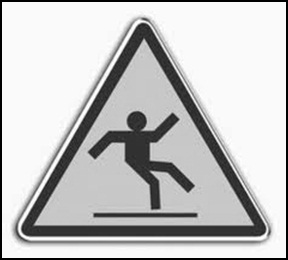 "Slip and Fall" injuries refer to any harm caused to another after they fall down, slip, or trip due to a "dangerous condition" on the property of another. The consequences of these incidents can be devastating — causing broken bones, back problems, brain damage, and some death. Even though these accidents occur all the time, and cause serious harm, many residents remain unaware of the fact that they have legal rights to recover for the losses they suffer as a result of the fall. The San Diego slip and fall lawyers at the Walton Law Firm have helped many local residents who have suffered slip and fall accidents.
Slip and fall injuries occur in a variety of situations, such as when a liquid is left of a floor, or concrete walkway becomes uneven because of a tree root or some other defect. Other common causes of these accidents include: steeply sloped driveways, potholes, uneven stairs, inadequate hand rails, unsafe balconies, and poor lighting.
TIP: IT IS IMPORTANT THAT YOU TAKE PICTURES OF THE LOCATION OF THE FALL AS SOON AS POSSIBLE AFTER THE INCIDENT TO PRESERVE THE SCENE.

California law recognizes that these accidents have serious consequences, and therefore the law requires those who own or control property — either a residence, business, or government building — to keep their property in a safe condition for all foreseeable uses, and to not otherwise act negligently in the control of their property. A slip and fall lawyer can help San Diego victims hold a property owner accountable for any negligence. The level of responsibility owed by property owners is slightly different depending on where the accident occurs. Business owners usually have the greatest responsibility to keep their property safe for the public. However, even private homeowners have to keep their home free of dangerous conditions for invited guests.
If you or a loved one is a victim of one of these accidents, it is important to prioritize your health first. Afterwards, it is also important to preserve the evidence if possible to ensure that a proper record of the incident can be obtained. This includes taking photographs or video, getting the contact information from witnesses, and/or asking someone to prepare a report.
Of course if the accident occurs in our area it is also important to timely visit with a slip and fall attorney in San Diego. The attorney can explain the best ways to collect proper evidence, can work with insurance companies, and will ensure that you preserve your right to pursue aggressive legal action if necessary. The costs of these events are often significant. All those hurt in these accidents have a right to recover for their medical bills, lost income, pain and suffering, and similar expenses. In some cases, victims may also need to be supported through assisted living services as a result of a fall.
If you or a loved one has been hurt by a slip and fall in our area make sure that you get in touch with our experienced legal professional at the Walton law Firm. Our personal injury attorney can explain how the law applies in your case and advocate on your behalf so that you get the compensation you deserve and need to fully recover. To learn how we can help, give us a call at 866-607-1325 or 760-571-5500 or send our San Diego slip and fall attorney a message at any time using our online contact form. We look forward to hearing from you.