Motorcycle Accidents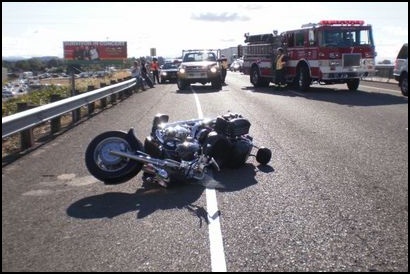 Motorcycle accidents tend to be more dramatic than most other vehicle accidents, often involving significant personal injuries to those involved. Studies show that in the United States,
motorcycle accidents
(including those involving mopeds and motor-scooters) are the leading cause of death of individuals in most demographic groups under 30 years old. Most of the time these accidents occur between a motorcycle and a regular passenger car, and more often than not the car is at least partially at fault for the collision in the experience of our San Diego motorcycle accident lawyers. Car drivers often fail to see the motorcycle or misjudge their location, violating the motorcycle rider's right-of-way.
According to the National Traffic Safety Administration, some of the top reported factors involved in fatal driving and motorcycle accidents are: excess speed, failure to keep in the proper lane, the influence of alcohol, drugs, or medication, inattentiveness (e.g. talking, eating, texting, etc.), and failure to yield right of way. Obeying motorcycle helmet laws and other traffic laws increases safety for all drivers and pedestrians in California and can even save lives.
As with all personal injury cases, time is of the essence. Statute of limitation laws are involved, meaning that a victim may lose their right to file suit if they wait too long after the accident before coming forward and pressing for their rights. In most motorcycle accident cases, the time limit is two years from the date of the accident. However, if a public entity is involved than that time limit may be as short as six months. In addition, it is important for a motorcycle accident lawyer in San Diego to ensure that proper evidence is collected as soon after the accident as possible. Witnesses are prone to forget information the further away from an event they are forced to remember. Also, physical evidence may be lost or improperly preserved if not protected.
Even when you do not think that a government entity may be involved in a suit, there is a chance that any analysis of the situation may warrant a suit. For example, defectively designed roadways, improperly maintained construction sites, or inadequate road maintenance are all potential causes of accidents that implicate public bodies. Also, at times manufacturers may be liable for an accident. Improperly designed or maintained motorcycles could have played a role, or perhaps safety equipment (such as a helmet) did not operate as required.
The San Diego motorcycle accident lawyers at the Walton Law Firm has successfully represented many motorcycle riders, their passengers, and their families in motorcycle accident cases. Claims could include a personal injury lawsuit on behalf of the motorcycle rider or passenger or a wrongful death suit on behalf family member of a deceased driver. If you have questions about an accident involving a motorcycle, please do not hesitate to contact our motorcycle accident attorneys at the Walton Law Firm by filling out an online questionnaire, or by calling us at 866-607-1325 or locally at 760-571-5500. Taking just a few moments to speak with a motorcycle accident attorney in the San Diego area so that you can learn about your legal rights could provide you with the chance to receive the fair compensation that you deserve. All legal consultations are free and confidential.