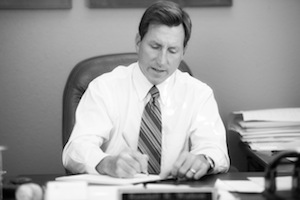 Randall R. Walton
Attorney
Randy Walton is a Southern California native, and takes cases in all Southern California counties. His law practice is based in San Diego County, with his main office in North County, where he represents clients in a variety of personal injury and wrongful death cases, including motor vehicle accidents (car and motorcycle), work injuries, property injuries, and injuries to the brain. No matter the size of the case, or the magnitude of the harm, Mr. Walton believes strongly that those harmed by the negligence or carelessness of others deserve justice for their injuries. As a result, he has collected millions of dollars for personal injury victims and wrongful death heirs.
A portion of Mr. Walton's practice is also dedicated to the prosecution of nursing facilities, including nursing homes (skilled nursing facilities), residential care facilities, and assisted living facilities, including home health care, in cases involving the physical abuse and neglect of the elderly and dependent adults. The neglect and abuse of our elders (and dependent adults) is a growing concern in the United States, and Mr. Walton is dedicated to helping those who have been victimized by neglect or abuse.
Mr. Walton also dedicates a significant amount of time to his community, which he believes is important. In November of 2018 he was elected to the San Marcos City Council, and for 10 years previous to that he served as a member of the Governing Board of the San Marcos Unified School District, a school district that serves over 20,000 students. He also is the founder of the San Marcos Promise, an organization dedicated to providing pathways and tuition assistance to college-bound students. He is a 2010 graduate of Leadership North County, a program provided by California State University San Marcos, and has been active in local youth sports for many years. He currently coaches the San Marcos High surf team. In his free time, Mr. Walton enjoys surfing, hiking, and spending time with his family.
For six consecutive years, from 2014 to 2019, Mr. Walton has been selected by members of the legal community for inclusion into the annual "Super Lawyers" magazine for his work in personal injury law. He also maintains a 10 rating in the Avvo legal directory.
In law school, Mr. Walton was the recipient several awards, including the Westbrook Award for scholarship and oral advocacy. He was a member of the school's national trial team, and received academic awards for legal writing.
Education
J.D., California Western School of Law
B.A., University of California, San Diego
Jurisdictions Admitted to Practice
State of California
U.S. District Court, Southern District of California
United States Supreme Court, 2003
Professional Affiliations
California Bar Association
Consumer Attorneys of San Diego
Consumer Attorneys of California

American Associate for Justice

San Diego County Bar Association
Publications & Speaking Events
Patient Safety, Care Coordination & Cutting-Edge Updates,
Annual Meeting of the California Association of Long Term Care Medicine (CALTCM), Los Angeles, CA. April, 25, 2015, Speaker.
Elder Abuse - Know Your Rights, Benefits & Laws, Presented by the Intertribal Court of Southern California, Valley Center, CA. June 15, 2011, Speaker.

Creating a Culture of Patient Safety, Annual Meeting of the California Association of Long Term Care Medicine (CALTCM), Los Angeles, CA. July 18, 2010, Presenter.
Bringing Quality Home: Risk Management Strategies, 2009 Annual Meeting of the California Association of Long Term Care Medicine (CALTCM), Los Angeles, CA. July 12, 2009, Speaker.
Long-Term Care Liability Crisis: Risk Management and Mock Trial, 2008 Annual Meeting of the California Association of Long Term Care Medicine (CALTCM), Los Angeles, CA. July 20, 2008, Speaker.
Civil Actions Under EADACPA, North Coastal Estate Planning Council, July 11, 2008, Speaker.
Elder Abuse: Remedies and Prevention, State Bar of California 79th Annual Meeting. Monterey, CA, October 7, 2006, Speaker.
What is 'Abuse' Under the Elder Abuse Act? Trial Bar News. August/September 2005, Author.

Community Involvement
Governing Board Member, San Marcos Unified School District
Graduate, Leadership North County (Class of 2010), California State University, San Marcos

The San Marcos Promise, Founder
Ridgeline Task Force, City of San Marcos